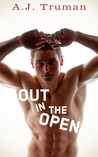 Out in the Open by A.J. Truman
My rating: 4 of 5 stars
4-4.5 stars
I received a free copy of this book in exchange for an honest review.
Ethan is a sophomore in college, he lives in the dorm, takes his classes, has a group of friends, and yet he doesn't feel like he fits in anywhere. He has no idea who he is, so he tries to blend in and does it so well he becomes almost invisible.
His goal in life is to become a lawyer and his spot in the Constitutional Law class with his dream professor is the first step. Unfortunately Ethan's idea of how this was supposed to go doesn't mesh with reality and he ends up stuck at the back of class with frat boy Greg, who lives up to every prejudice Ethan has about frat boys!
Through a series of unfortunate events, Ethan ends up grabbing Greg's crotch, just to get back at him, but that turns out to have a completely different outcome than what Ethan thought as well and before he knows it the two are involved in a series of hot and heavy hook ups across campus.
The story is told from Ethan's point of view and through him we experience the very real pain and angst of figuring out who you are and having the courage to actually become that person. As he slowly comes out of his shell, his interactions with his peers starts to show other sides of them as well.
This is a great coming of age story with a cute romance on top, I do wish the ending had been a bit longer though. It felt a bit too rushed, but all in all it was a great story. Well written, flowed nicely and I would recommend it to everyone who remembers what it's like being young and insecure and desperately wishing you were cool.